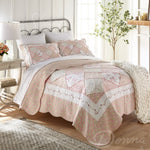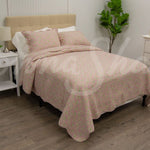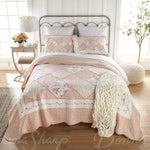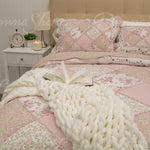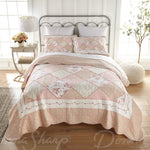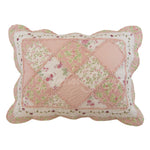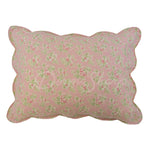 Donna Sharp
Strawberry Garden Quilted Collection
Regular Price

$240.00
Sale Price

$240.00

Regular Price
Unit Price

per
Details
Donna Sharp Strawberry Garden Quilt Set Introducing our exquisite pieced cotton quilted bedding ensemble, a true masterpiece that combines the charm of delicate roses, floral patterns, and timeless gingham fabrics. Crafted with meticulous attention to detail, this ensemble will transform your bedroom into a haven of elegance and comfort.
One of the standout features of this ensemble is the captivating patchwork design, where a harmonious blend of rose, floral, and gingham fabrics come together in perfect harmony. Each fabric is thoughtfully chosen to create a visually stunning display that evokes a sense of nostalgia and romance.
What sets this bedding ensemble apart is the unique rag edges that adorn each fabric piece. These rag edges add a touch of whimsy, providing a lovely dimension and texture that elevates the overall aesthetic. You'll be enchanted by the delicate frayed details that exude a rustic charm and create an inviting atmosphere in your bedroom.
Adding a final flourish of elegance is the intricately embroidered rose border, which serves as the crowning glory of this ensemble. This exquisite detailing showcases our commitment to craftsmanship and adds a luxurious touch to the overall design. The edges of the pattern are delicately scalloped, further enhancing the ensemble's grace and sophistication.
With a color palette inspired by nature's beauty, our pieced cotton quilted bedding ensemble offers a range of enchanting shades. From soft blush and gentle pinks to refreshing spring greens and deep roses, these hues will infuse your space with a sense of tranquility and serenity. To complete the palette, we've included classic white and cream shades that exude purity and timelessness.
Not only is our pieced cotton quilted bedding ensemble a feast for the eyes, but it also delivers on comfort. Crafted from high-quality cotton, it offers a soft and breathable texture that ensures a restful night's sleep. The attention to detail and premium materials used in its creation guarantee durability, so you can enjoy this enchanting ensemble for years to come.
Indulge in the beauty of our Donna Sharp pieced cotton bedding ensemble, where the artistry of patchwork, delicate rag edges, and exquisite embroidery unite. Create a haven of timeless elegance in your bedroom and let the soothing colors and luxurious textures envelop you in a world of serenity and style.
Set includes a cotton pieced quilt and 2 shams
EASY CARE: Our bedding sets feature a quilt and one or two shams in high-quality colors and textures. Simply machine wash on cold, tumble dry, and make sure you do not bleach for best results.
Eco-friendly packaging
Reversible to a printed design
Fade resistant
DURABLE MATERIALS: Made from polyester or cotton, our quilts and shams are lightweight yet strong. Pair our coordinating throws and accent pillows to carry this quilted bedding's theme throughout your rooms.
DONNA SHARP: Founded in 1981, we are a premier brand of beautiful, expertly crafted quilts and comforters. Our home decor and fashion lines represent a family history of quilting and Donna's drive to build a company based on that tradition.
Imported
King Quilt Set: Quilt110 x 96", 2 King Shams 20 x 36"
Queen Quilt Set: Quilt 90 x 90", 2 Standard Shams 20 x 26"
100% cotton cover 50/50 poly/cotton fill
Just For You